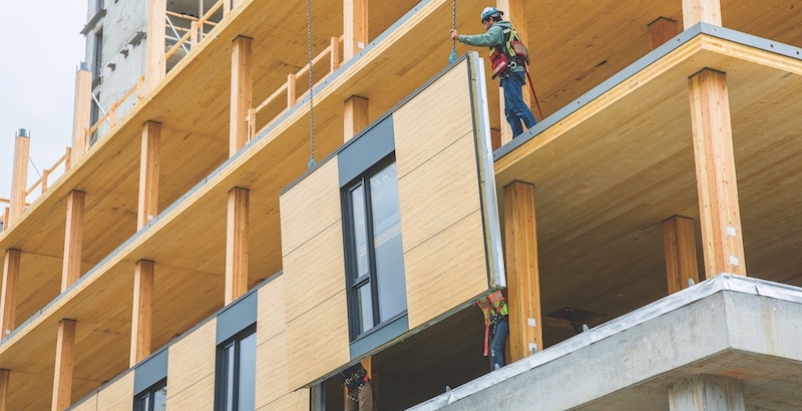 Editor's note: What is mass timber? Sometimes called "advanced timber," this relatively new and as-yet evolving building product takes several forms. For a primer on products in the mass timber family, we turned to rethinkwood.com. We think you'll find their definitions useful in better understanding and engaging in discussions about the use of mass timber in our built environment.
Mass timber is a category of framing styles typically characterized by the use of large solid wood panels for wall, floor and roof construction. It also includes innovative forms of sculptural buildings, and non-building structures formed from solid wood panel or framing systems of 6 feet or more in width or depth. Products in the mass timber family include:
CROSS-LAMINATED TIMBER
Cross-laminated timber (CLT) is a wood panel typically consisting of three, five, or seven layers of dimension lumber oriented at right angles to one another and then glued to form structural panels with exceptional strength, dimensional stability and rigidity. CLT can be manufactured to customized dimensions and panel sizes vary by manufacturer while length is usually limited by transportation restrictions.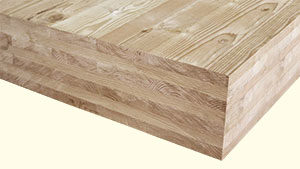 Since CLT panels resist high racking and compressive forces, they are particularly cost effective for multi-story and long-span diaphragm applications. Some specifiers view CLT as both a product and a system that can be used interchangeably with other wood products; it can also be used in hybrid applications.
Because of CLT's structural properties and dimensional stability, this mass timber product is well suited to floors, walls and roofs used in mid-rise construction. The wall and floor panels may be left exposed in the interior which provides additional aesthetic attributes. The panels are used as prefabricated building components which can speed up construction practices or allow for off-site construction.
GLUE-LAMINATED TIMBER (GLULAM)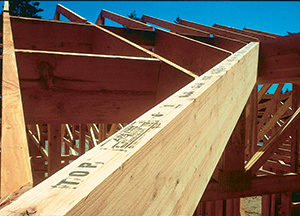 Glue Laminated Timber (Glulam) is composed of individual wood laminations (dimension lumber), specifically selected and positioned based on their performance characteristics, and then bonded together with durable, moisture-resistant adhesives. The grain of all laminations runs parallel with the length of the member.
Glulam can be used in horizontal applications as a beam, or vertically as a column. Glulam has excellent strength and stiffness properties (pound for pound, it is stronger than steel, and is available in a range of appearance grades for structural or architectural applications.
NAIL-LAMINATED TIMBER
Nail Laminated Timber (NLT or Nail-lam) is created by fastening individual dimensional lumber, stacked on edge, into one structural element with nails. In addition to being used in floors, decks and roofs, nail-lam panels have been used for timber elevator and stair shafts. NLT offers a consistent and attractive appearance for decorative and exposed to view applications. Sheathing can be added to one top side to provide a structural diaphragm and allows the product to be used as a wall panel element.
DOWEL-LAMINATED TIMBER
Dowel-laminated timber panels are a next-generation mass timber product commonly used in Europe. Panels are made from softwood lumber boards (2-by-4, 2-by-6, 2-by-8, etc.) stacked like the boards of NLT and friction-fit together with dowels. Typically made from hardwood lumber, the dowels hold each board side-by-side, similar to how nails work in an NLT panel, and the friction fit lends some dimensional stability to the panel.
Among the advantages of DLT, acoustic strips can be integrated directly into the bottom surface of a panel. This can help a designer achieve acoustic objectives, while keeping the wood exposed and allowing for a wide variety of surface finishes.
STRUCTURAL COMPOSITE LUMBER
SCL is a family of wood products created by layering dried and graded wood veneers, strands, or flakes with moisture-resistant adhesive into blocks of material, which are subsequently re-sawn into specified sizes. Two SCL products—laminated veneer lumber (LVL) and laminated
strand lumber (LSL)—are relevant to the mass timber category, as they can be manufactured as panels in sizes up to 8 feet wide, with varying thicknesses and lengths, depending on the product and manufacturer. Parallel strand lumber (PSL) columns are also commonly used
in conjunction with other mass timber products.
WOOD-CONCRETE COMPOSITES
Mass timber systems vary widely, and hybrids are an option for wood high-rises, very long spans, or other project-specific requirements. No material is perfect for every job, and it's important for designers to choose a combination of materials that effectively meets the performance objectives.
At a product level, most of the panels described above can be made into a wood-concrete composite by applying a concrete topping in such a way that the two materials act as one.
One example is the University of Massachusetts Design Building, which includes CLT/concrete composite floors. According to architect Tom Chung of Leers Weinzapfel Associates, the team relied on the CLT panels for the building load requirements. However, the composite action between the CLT and concrete provided extreme stiffness and minimal deflection which, along with an insulation layer between the materials, provided good acoustic separation between floors.