Interior Secretary Ryan Zinke is blaming this summer's large-scale wildfires on environmentalists, who he contends oppose "active management" in forests.
But the idea that wildfires should be suppressed by logging the forest is far too simplistic. Most scientists agree that large hot wildfires produce many benefits for North American forests. Notably, they create essential habitat for many native species.
Fifteen years of research on Spotted Owls – a species that has played an oversized role in shaping U.S. forest management policies and practices for the past several decades – directly contradicts the argument that logging is needed to protect wildlife from fires.
Wildlife biologists, including me, have shown in a string of peer-reviewed studies, that wildfires have little to no effect on Spotted Owls' occupancy, reproduction or foraging, and even provide benefits to the owls.
Nonetheless, despite this steadily accumulating evidence, the U.S. Forest Service advocates logging in old-growth forest reserves and Spotted Owl critical habitat in the name of protecting Spotted Owls from forest fires. Zinke's recent statements are just the latest and broadest iteration of the false viewpoint that logging benefits wildlife and their forest habitats.
Protecting Spotted Owl habitat
Spotted Owls are birds of prey that range from the Pacific Northwest to central Mexico. Because they nest in large old-growth trees and are sensitive to logging, in the 1980s they became symbols of the exceptional biodiversity found in old-growth forests.
The Northern Spotted Owl in the Pacific Northwest was listed as threatened under the Endangered Species Act in 1990. At that point, about 90 percent of U.S. old-growth forest had already been lost to logging. Every year in the 1980s the U.S. Forest Service sold about 7 to 12 billion board feet of public lands timber.
Listing the owl drew attention to the dramatic decline of old-growth forest ecosystems due to 50 years of unsustainable logging practices. In response the U.S. Forest Service adopted new regulations that included fewer clearcuts, less cutting of trees over 30 inches in diameter and fewer cuts that opened up too much of the forest canopy. These policies, along with vast depletion of old-growth forests, reduced logging on Forest Service lands to about 2 billion board feet per year.
During the 1990s, national forest management policy for the Northern Spotted Owl included creating old-growth reserves and designating critical habitat where logging was restricted – mostly within half a mile of a Spotted Owl nest. In spite of these protections, populations of Northern Spotted Owls, as well as California and Mexican Spotted Owls, continued to decline on forest lands outside national parks. This was most likely due to ongoing logging outside of their protected nesting areas in the owls' much larger year-round home ranges.
Fire and owls
Over the years the Forest Service shifted away from treating Spotted Owls as symbols of old-growth forest biodiversity, and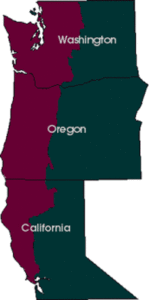 instead started to cite them as an excuse for more logging. The idea that forest fires were a threat to Spotted Owls was first proposed in 1992 by agency biologists and contract researchers. In a status assessment of the California Spotted Owl, these scientists speculated that fires might be as damaging as clearcuts to the owls.
This perspective gained popularity within the Forest Service over the next 10 years and led to increased logging on public lands that degraded old-growth habitat for Spotted Owls.
Academic scientists, including some with Forest Service funding, published peer-reviewed studies of Spotted Owls and fire in 2002, 2009, 2011 and 2012. All four studies showed either no effects from fire or positive benefits from fire for Spotted Owls. Subsequent research on Spotted Owls in fire-affected forests has showed repeatedly that the owls can persist and thrive in burned landscapes.
Many wild species thrive in burned landscapes
I recently conducted a systematic review and meta-analysis that summarized all available scientific research on the effects of wildfires on Spotted Owl ecology. It found that Spotted Owls are usually not significantly affected by mixed-severity forest fire. Mixed-severity forest fire, which includes large patches with 100 percent tree mortality, is how wildfires in western forests naturally burn. The preponderance of evidence indicated that mixed-severity wildfire has more benefits than costs for Spotted Owls.
In 2017 I submitted an early version of this analysis with the same conclusions to the U.S. Fish and Wildlife Service during the agency's peer-review process for its Conservation Objectives Report for the California Spotted Owl. My conclusions were not included in the final report.
Decades of science have shown that forest fires – including large hot fires – are an essential part of western U.S. forest ecosystems and create highly biodiverse wildlife habitat. Many native animals thrive in the years and decades after large intense fires, including deer, bats, woodpeckers and songbirds as well as Spotted Owls. Additionally, many native species are only found in the snag forest habitat of dead and dying trees created by high-severity wildfire.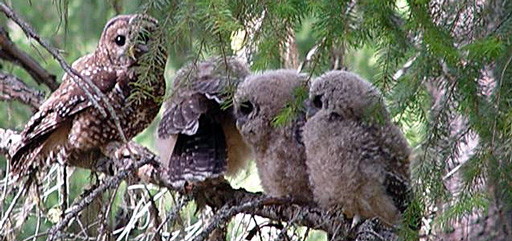 Wildfires threaten homes, but wildlife and water supplies benefit
Studies have shown that that wildfires are strongly influenced by a warming climate, and that logging to reduce fuels doesn't stop the biggest, hottest fires. In my view, federal and state agencies that manage wildfires should devote significant resources towards making structures ignition-resistant and creating defensible space around homes to protect communities, rather than promoting ecologically damaging logging.
It is also time to reform Forest Service management goals to emphasize carbon capture, biodiversity, outdoor recreation and water supply as the most important ecosystem services provided by national forest lands. These services are enhanced by wildfires, not by logging.
Derek E. Lee is an associate research professor of biology at Pennsylvania State University. This article originally appeared online at The Conversation.