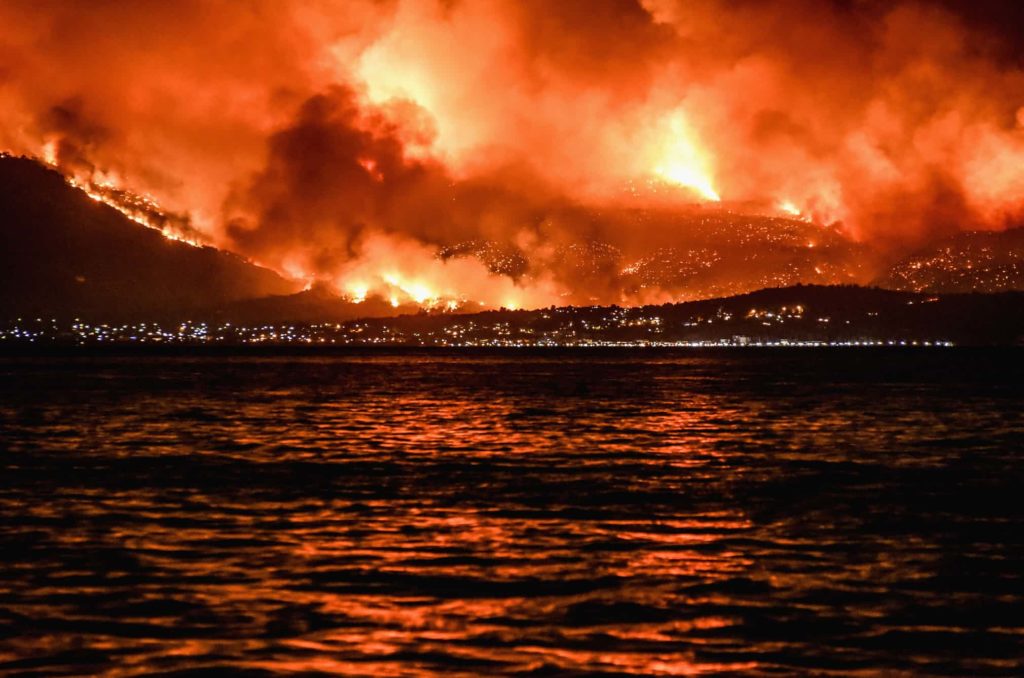 Wildfires are personal. They threaten your home, your favorite campsite, maybe even your entire city.
So it's easy not to look up during the onslaught of fire and smoke to see that you are not alone in confronting what one western Montana firefighter recently called "the beast."
But 2017's ferocious wildfire season is, in fact, a global phenomenon playing out from the American West to Portugal, Spain, France and Greece.
And while separated by continents and oceans, these fire-ravaged regions are plagued by many of the same problems. Heat waves and drought brought on by global warming. Decades of misdirected forest management. More decades of aggressive fire suppression in forests that historically burned with some frequency. Urban encroachment on once-isolated forests.
Here's a look at a few of the emerging storylines this summer in southern Europe, where the wildfire season began weeks early and continues to rage.
In mid-June, where early season wildfires claimed a record number of lives in Portugal, The Guardian reported on research showing a definitive link between climate change and the heat wave.
The story began:
"Human-caused climate change dramatically increased the likelihood of the extreme heatwave that saw deadly forest fires blazing in Portugal and Spain, new research has shown.
"Much of western Europe sweltered earlier in June, and the severe heat in England, France, Belgium, the Netherlands and Switzerland was also made significantly more likely by global warming. Such temperatures will become the norm by 2050, the scientists warned, unless action is taken to rapidly cut carbon emissions.
"Scientists combined temperature records and the latest observations with a series of sophisticated computer models to calculate how much the global rise in greenhouse gases has raised the odds of the soaring temperatures.
"They found the heatwave that struck Portugal and Spain was 10 times more likely to have occurred due to global warming. In Portugal, 64 people died in huge forest fires, while in Spain 1,500 people were forced to evacuate by forest blazes.
"The intense heat was made four times more probable in central England, which endured its hottest day since 1976, and in France, the Netherlands and Switzerland, where emergency heatwave plans were triggered."
The analysis by World Weather Attribution, an international coalition of scientists that calculates the role of climate change in extreme weather events, found "clear and strong links" between the record warmth and "human-caused climate change," said Geert Jan van Oldenborgh, at the Royal Netherlands Meteorological Institute.
Following the deadly mid-June wildfires in Portugal, authorities pointed not only to climate change but to forest management for blame.
The Guardian later reported:
"Many people believe poor forest management – combined with the depopulation of rural villages, which has left many wooded areas untended – have played a part in the disaster."
"What failed this Saturday?" asked a headline in the Público newspaper. "Everything, as it has failed for decades."
The environmental lobbying group Quercus argued that much of the danger came from the highly flammable eucalyptus forests that have outcompeted pine and cork oak to become Portugal's dominant forest species.
However, other authorities said the risk associated with eucalyptus forests has been overstated.
And neither the heatwave nor the wildfires show any signs of abating as August comes to a close.
A week ago, a town in central Portugal and its 2,000 residents were completely cut off from the rest of the country by forest fires. That came after the town of Macao was 80-90 percent destroyed by a late-July fire. Here's the story.
And in Rome, the heatwave and associated drought have become so severe that the city's historic fountains have been shut off and water rationing is in effect. Read more here.
Unexplainably, arson has now entered the equation as well, with a number of fires across southern Europe being traced to arsonists, including a recent blaze in northern Italy.
The Guardian reported:
"A volunteer firefighter has been filmed starting a blaze in northern Italy at a time when the country is struggling to cope with a spate of wildfires.
"A 28-year-old man was arrested in Pavia, Lombardy, on suspicion of setting fire to hedges and rubbish bins before returning to his force's base, alerting colleagues and rushing with them to put out the blaze. Police said he was suspected of having started at least seven fires since 2014.
"Firefighters across Italy have been tackling wildfires caused by a European-wide heatwave, with nine regions urgently appealing for water planes."