Can innovative wood products and humans' innate need to interact with nature help cities across the country achieve their commitments under the Paris climate accord?
More than 400 U.S. mayors and cities have signed the Paris Accords, but do they have a plan for how to accomplish the attendant goals?
Forests in their own cities and wood products from these enclaves and their rural brethren could help in a significant way.
The 2007 International Panel on Climate Change report recognized the importance of forest management: "In the long-term, a sustainable forest management strategy aimed at maintaining or increasing forest carbon stocks, while producing an annual sustained yield of timber, will generate the largest sustained mitigation benefit."
From the trees out your office and kitchen window to the rural forest totaling around 850 million acres, or one-third of the country, the answer is a loud yes they can help.
Already, some cities are taking advantage of their backyard and boulevard forests.
The third annual International Mass Timber Conference in Portland, Oregon, brought together more than 1,200 people from 22 countries, firm in the belief that it is possible to achieve both increasing forest stocks and a sustained yield of timber.
The number of people attending was about double last year's conference. Architects, engineers, developers, wood products manufacturers, forest managers, building code officials and more filled the exhibit hall looking at realities alongside the latest innovations.
In the center of the exhibit hall, a large pinnacle made of a mass plywood panel was the newest innovative product on display. It is manufactured in the small town of Lyons, south of Portland by Freres, a multi-generation family-owned company. (See accompanying story.)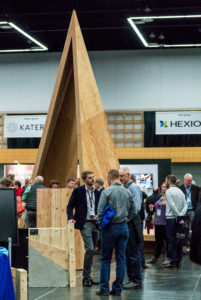 Bill Browning of Terrapin Bright Green, a founding member of the U.S. Green Building Council, was one of the keynote speakers and provided a vision of how to bring carbon management solutions together with healthier buildings through the concept of biophilic design.
He talked about the potential for a city with a "forest" of buildings made of wood rather than steel and concrete, where buildings can become carbon sinks instead of sources.
"Trees, forests and green space create a sense of awe, places we seek out for vacations," Browning said. "Just having wood grain exposed in the walls and ceilings, visible and touchable in our buildings releases dopamine in our brains," giving us pleasure and peace and a stress release.
He related the benefits of "forest bathing – a short 20-minute walk in a park" as prescribed in Japan – can have on our health, reducing blood pressure, cortisol levels and more.
Browning emphasized the importance of developing key metrics for achieving a revolution in how we approach the built environment, such that our cities and factories can function like forests.
Forests capture and store carbon, they regulate the flow of water, provide habitat, and as Browning put it, "provide places for us to recreate or re-create ourselves."
Our cities can do the same thing if we design them well. We can use wood inside our structures so that we live and work in places that surround us with materials that feed this innate part of our brains.
We can have urban forests outside our office or home door as portals to trees and greenery that shade the structures, reducing the amount of energy needed for air-conditioning, providing windbreaks that reduce the heating load in the winter, and cleaning stormwater and the air we breathe. All this while providing habitat for birds that serenade us.
Browning also pointed out some of the bottom-line benefits of biophilic design: Hotels charge on average 16 percent more for rooms that look out over water or forests; rents of office space with wood exposed are higher; workers are healthier and more productive when their office is made of visible natural wood grains.
So it makes good business sense, as well as environmental sense, to build with wood and take advantage of its natural properties, store carbon and create economic incentives to sustainably manage our forests better.
One of the panels at the conference focused on the role of mass timber and wood use in reducing carbon emissions through sustainable construction, an essential tool for mayors and corporations looking to achieve their Paris-accord promises.
Peter Moonen of the Canadian Wood Council talked about his four S's: "sink, sequester, substitute and sustainability."
He indicated, "The forests and the wood products derived from them are carbon sinksin North America. They have been offsetting 11 to 15 percent of our fossil fuel emissions for decades."
The forests breathe in carbon dioxide and exhale oxygen. They sequester the carbon in their trunks, branches, soil and in the wood products.
The use of wood in place of steel, plastic, aluminum and concrete allows for the substitution benefit because less fossil energy is required in its manufacture.
The substitution benefit is twice as great as the amount of carbon stored in the wood. On average, for every ton of carbon stored in the wood, two tons of carbon are avoided.
The final 'S' is critical because the benefits of the first three S's are dependent upon the forests being managed sustainably. We need to grow as much or more than we harvest, doing it in a responsible manner, protecting water and reforesting the land.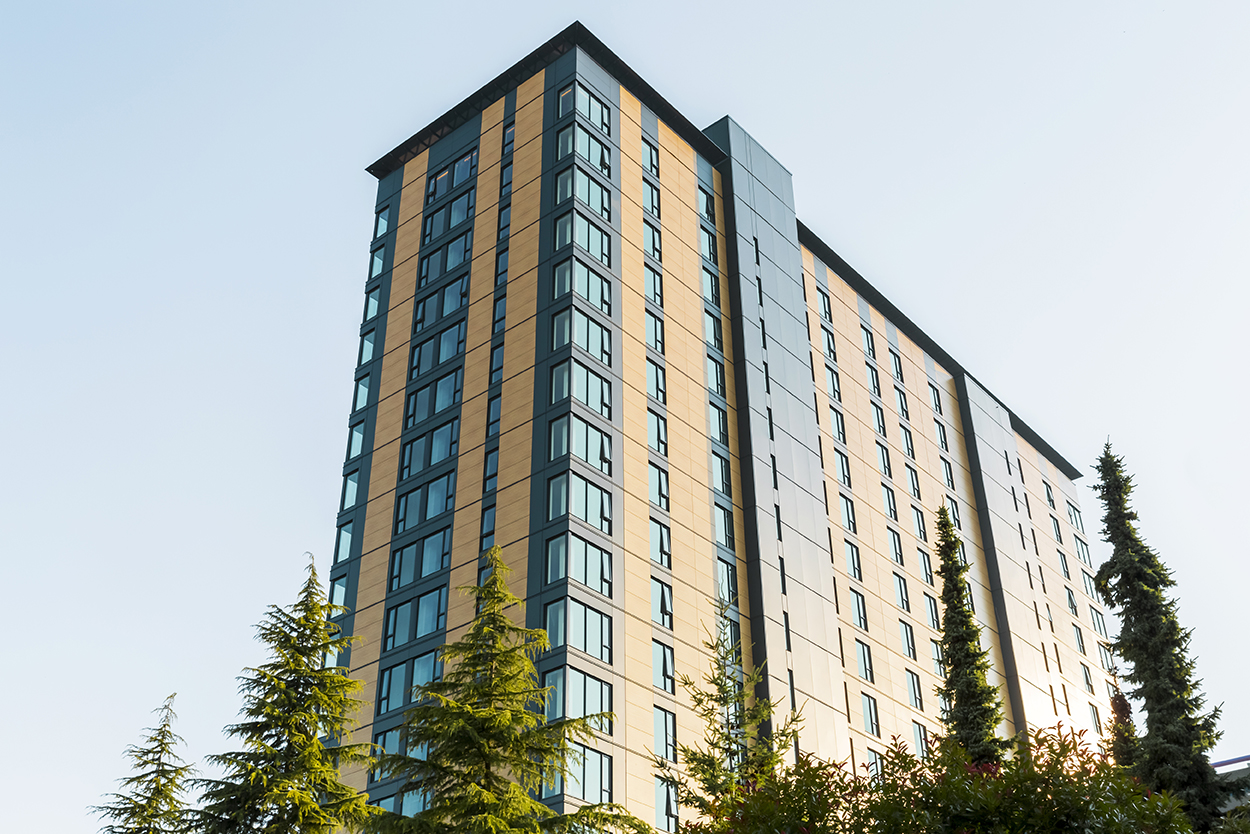 An innovation in new standards is emerging as another tool for mayors to use in tackling climate change.
Moonen reported the city of Vancouver, British Columbia, requires the reporting of the amount of embodied energy in a building, which is the energy needed to manufacture the materials and construct it.
Typical green building standards only focus on the energy use once a building is constructed without recognizing the large differences between the amount of fossil energy needed to produce building materials.
Francesca Pierobon and Indroneil Gaugaly from the University of Washington presented the results of a Life Cycle Assessment case study comparing a mid-rise concrete building to a mass timber building, and the substantial energy and carbon benefits that are achieved as a result.
Moonen said the Monad-Corvette Landing building in Vancouver, which will be 12 stories of mass timber used in combination with passive house standards for energy efficiency, will be carbon negative after projecting 100 years of operation.
It will store more carbon than is emitted from the construction and 100 years of operation. So mayors can actually start reversing their cities' carbon emissions if they adopt these methods.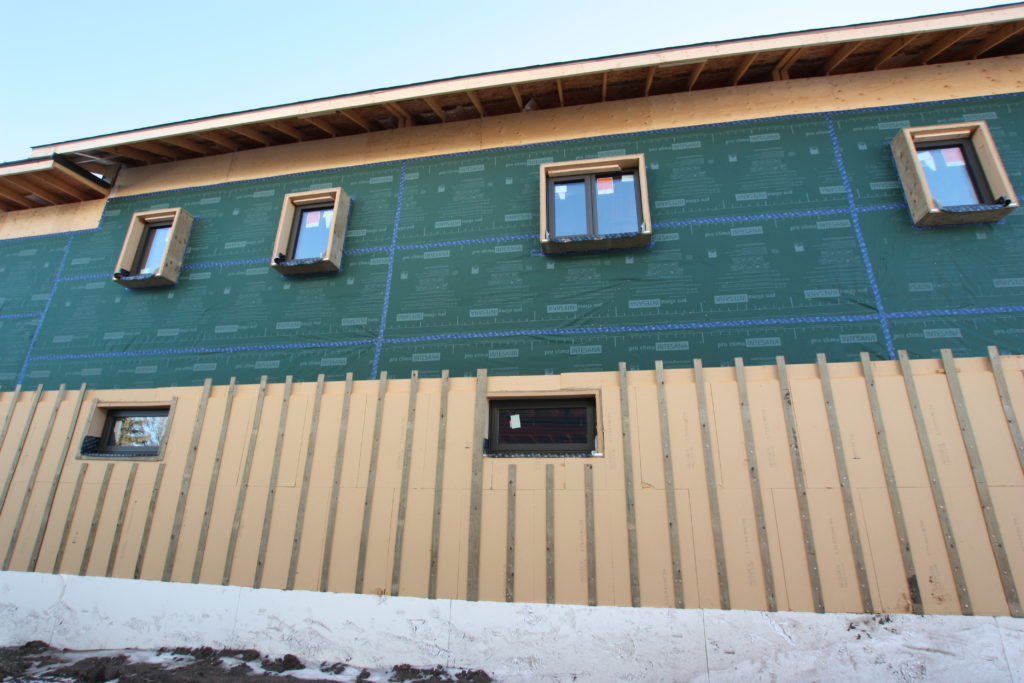 The intensity of the conference was substantial, as there were four concurrent tracks of presentations. In another room, Lucas Johnson with 475 High Performance Building Supply Co. was talking about how to take the passive house design criteria for super energy efficiency and combine it with renewable low or non-toxic materials that can be carbon negative – and combine that with CLT.
One of the products is by a German company called Gutex, which makes insulation out of sawdust and wood chips. The product provides excellent thermal and sound insulation properties and helps the building breathe better, which helps improve the indoor air quality and better manages the moisture in and out of the building to make it more durable in the long run.
These types of materials magnify Moonen's "S's" by storing more carbon in long-term products like your insulation, in place of more fossil energy-intensive materials such as foam board and glass batting materials. These provide additionalsubstitution benefits.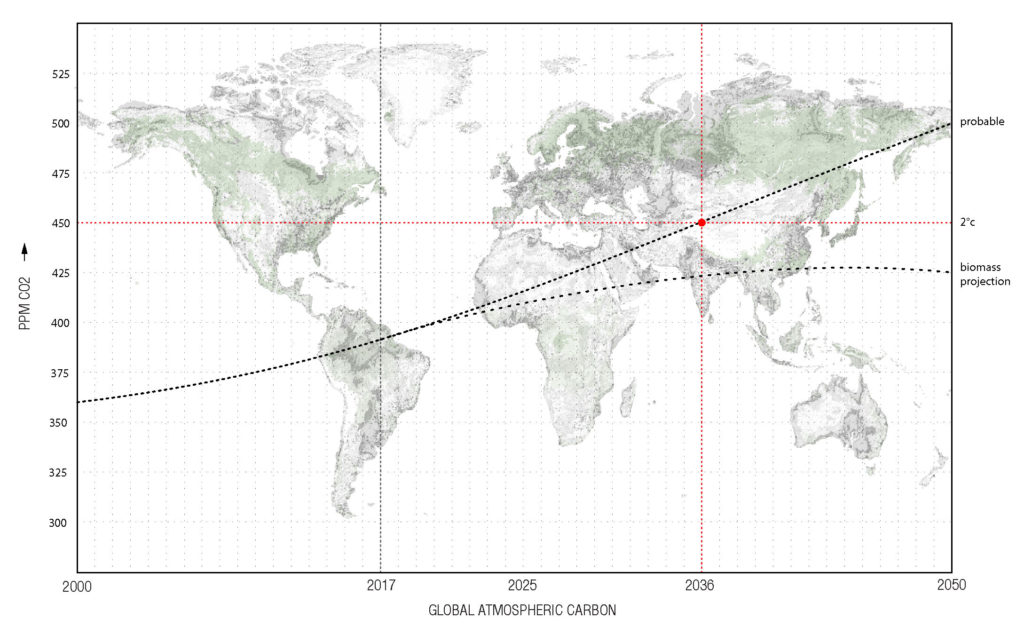 The information and opportunities for cities just kept coming. Alan Organschi, a principal at Gray Organschi Architecture and professor at Yale who co-leads Timber City, and Nicole St. Clair Knobloch with the New England Forest Foundation talked about the possibilities of a revolution in how we build our cities with wood and the innovative idea to use revenue from cap and trade legislation to incentivize construction of buildings from wood to reward builders when they reduce their greenhouse gas (GHG) emissions.
Organschi and St. Clair Knobloch said the planet has about 18 years to dramatically reduce emissions to avoid the 2-degree threshold climate scientists have warned against crossing.
They pointed out that the built environment is the No. 1 source of emissions, almost half (49 percent), of greenhouse gas emissions when you include the emissions from construction and operation of the buildings.
The energy and GHGs emitted during construction are immediate and cumulative, whereas the energy from operation is spread out over time.
So building material choices have immediate and long-term cumulative effects.
Organschi said: "We have to redefine what sustainable building is. It is more than energy efficiency. We need to move away from mineral based materials to biogenic materials."
St. Marie Knobloch suggested there is an untapped source of funding to help encourage the adoption of these new materials.
She noted: "Rewarding the carbon storage by using wood in place of steel and concrete is an easy measure to conduct. Rewarding the substitution benefit is more challenging to document and demonstrate the additionality."
It is a real benefit, but more complicated to document and receive payment. Having a financial reward is important because changing construction materials is hard for a business. Crews are accustomed to certain materials, as are architects and engineers, so bringing about change is risky compared to the status quo.
Establishing mechanisms to reward all professions will accelerate the adoption of wood. She shared the example of states that have a cap and trade system in place and the money generated by selling carbon credits is then used to reduce carbon emissions.
Using mass timber is an easy, quantifiable way to reduce emissions, based on Moonen's 4 S's.
There is a significant opportunity for city and state officials to leverage this revenue stream to more cost effectively reduce their carbon emissions.
Organschi and St. Marie Knoblach closed their presentation showing how the use of wood and accounting for both the embodied and operational energy savings could reverse the atmospheric carbon curve, presented above.
Innovation comes in many different forms.
Michael Marks, the CEO of Katerra, spoke about his experience in electronics technology manufacturing and what it brings to the construction world.
His company is delivering a fully integrated supply chain to building developers. Katerra supplies everything from architectural design, engineering, general contractor, subcontractors, material supplies and construction in a factory setting.
The house or apartment is transported in component parts and assembled at the final location. Their vision is to build and deliver houses, apartments and condos to customers for less money, faster and full of custom choices.
They have a plant under construction in Spokane, Washington, that will make cross-laminated timber and convert it to structures that will roll out the other end of the plant, including windows, toilets, appliances, flooring and all the other finishes a homeowner expects.
This system will facilitate the rapid adoption of new materials and financial rewards.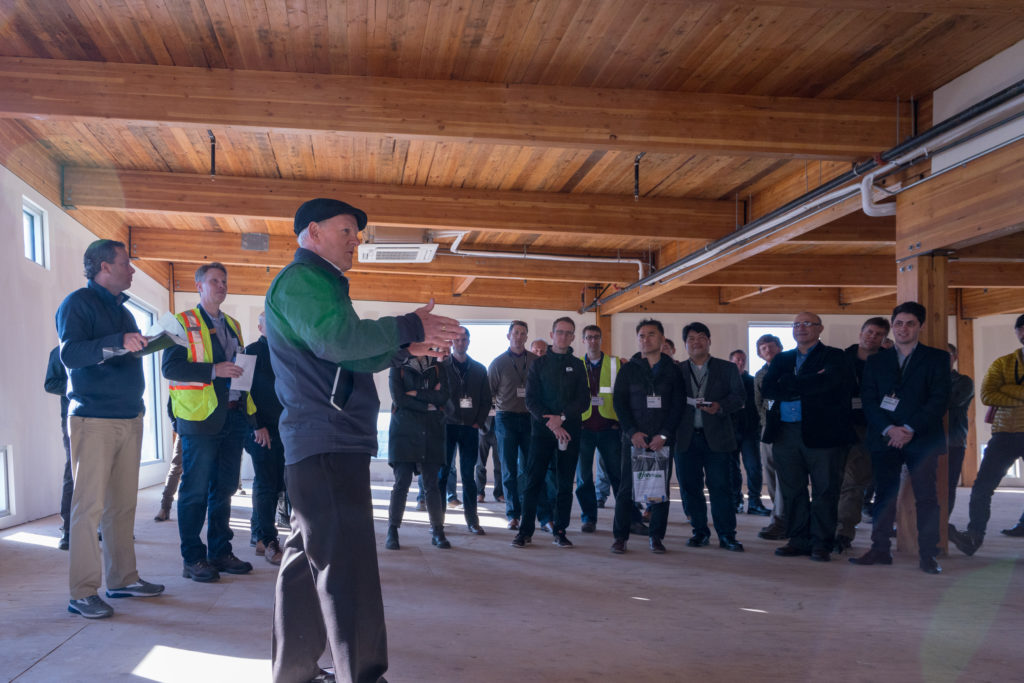 One of the conference tours provided a trip around the city of Portland to see examples of mass timber buildings recently completed or under construction.
Oregon Gov. Kate Brown and Portland Mayor Ted Wheeler helped kick off each day's multi-track series of presentations about fire and seismic testing results, design challenges and solutions, gluing materials, connectors, and blast testing so CLT can be used on military bases. Video from Woodworks documenting tests conducted with the Air Force, starting with the blast. Then come the shock waves, causing the CLT to flex in and out. It is 610 pounds set off 75 feet away.
Both political leaders robustly endorsed the use of wood sustainably grown in Oregon's forests. They see the opportunities to help restore habitat, reduce wildfire risks, and revitalize rural communities and economies through the sustainable growth of forests and manufacture of these new materials for use in the urban centers.
The mayor and governor are showing the nation how to jump-start the use of cross-laminated timber and other mass timber products by addressing building codes, investing state and city funds to help overcome barriers, and doing the testing needed to assure public safety is maintained.
Vicki Christiansen, interim chief of the U.S. Forest Service talked about the "importance of active management of forests to reduce wildfire risks and improve forest health while having sustainable harvests to restore landscapes and create fire adapted communities."
The adoption of these new products helps create new markets for the trees being removed and creates "more bang our buck" in accomplishing the management needed to make forests more resilient and thus better carbon sinks, to protect watersheds and provide wildlife habitat and places for human rejuvenation.
Urban and rural forests and their sustainable management appear to be some of the most cost effective ways for urban populations and corporations to meet their commitments to the Paris Accord, while at the same time improving their enjoyment of life indoors and out, their health, business productivity, and water and air quality. Solutions with synergy should give mayors and city councils a reason to smile with optimism.