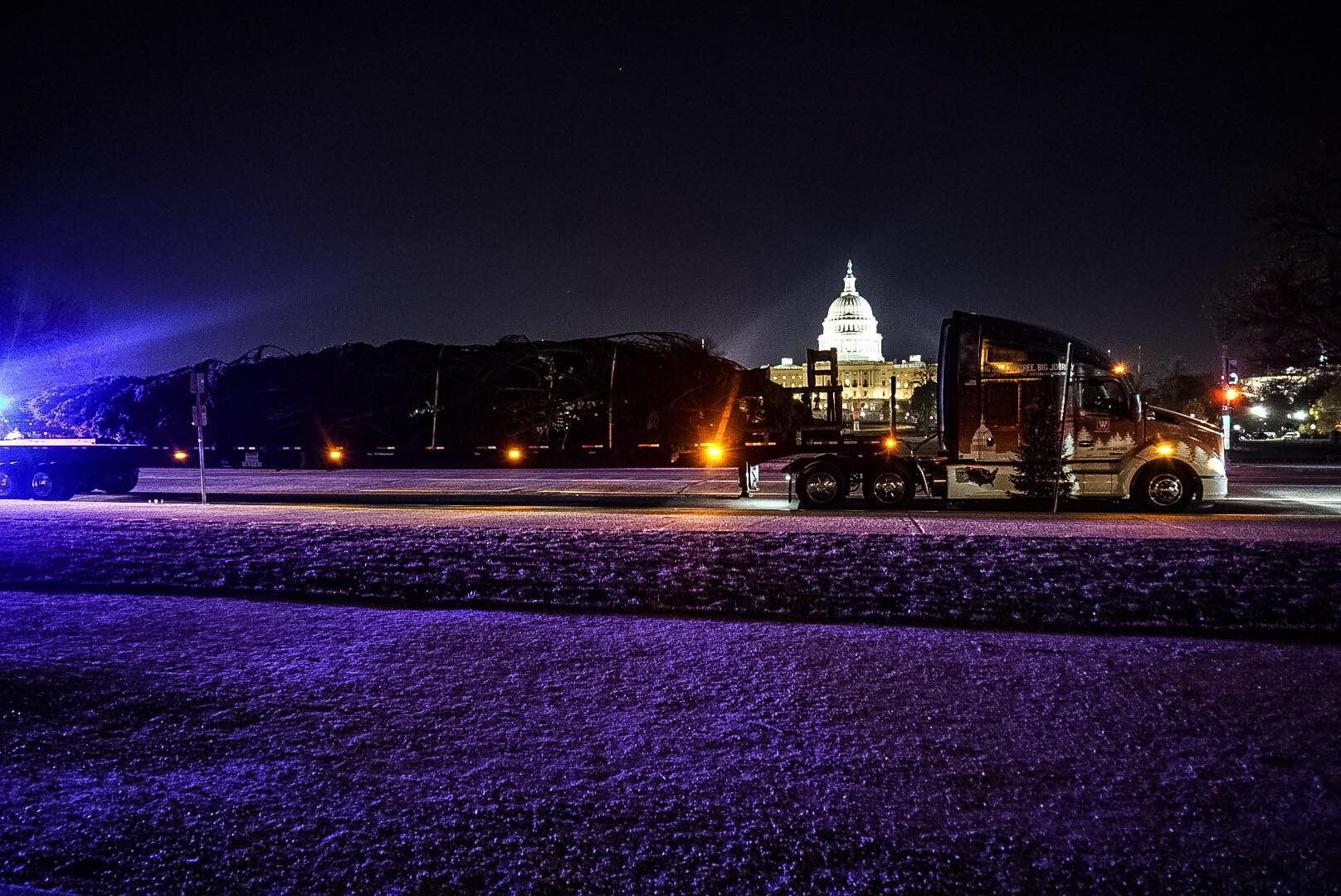 Grown to the height of a high-rise on northwestern Montana's remote Kootenai National Forest, the U.S. Capitol Christmas tree reached its destination Monday after a 3,460-mile journey across the country.
Trucker Larry Spiekermeier made his delivery before dawn, after a stop Sunday at Joint Base Andrews, where members of the U.S. Air Force helped to unwrap the tree before the final few miles of its travels.
On Monday, a crane hoisted the tree into place on the west side of the Capitol, where a lighting ceremony – led by Montana Sen. Jon Tester – is planned for Dec. 6.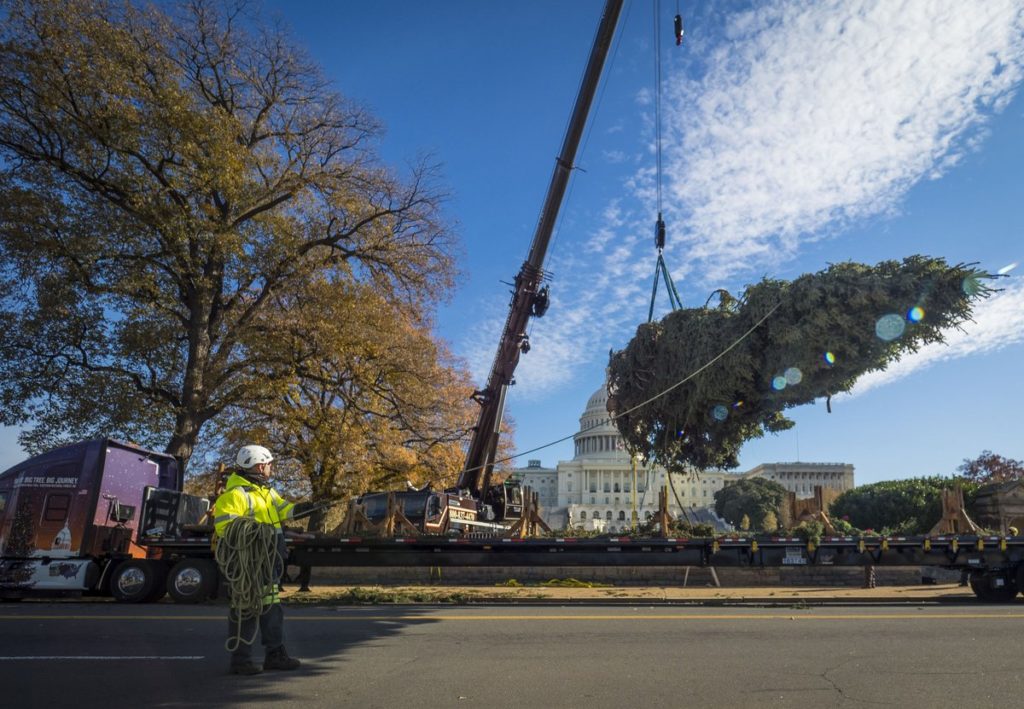 Two of the men most involved in the cutting and transport of the 79-foot-tall Englemann spruce recently put their stories in writing. We share their words as the tree begins its few short weeks on display in D.C.
Trucker Spiekermeier works for Whitewood Transport in Plains. Here are his thoughts on the trek that began in northwestern Montana on Nov. 13 and which, during dozens of stops over thousands of miles, reaffirmed his love of America, long-haul trucking and the nation's immense public forests.
"I'm one of 3.5 million professional truck drivers on America's roads working to safely deliver the goods that keep our lives and economy moving, but on my latest trip, my truck is longer and heavier than usual and I couldn't be prouder.
"With a 79-foot-tall Engelmann spruce in tow, I'm the driver who's been safely traveling across the country to deliver this year's Christmas tree to the U.S. Capitol.
"I've been hauling for 49 years through 49 states and am proud to say I've traveled 3.5 million accident-free miles. But this is the proudest job I've had so far in my career.
"For over 50 years, a Christmas tree has been on display at the Capitol each holiday season, and this year, I've been proud to be a part of it, along with Whitewood Transport, which was selected from over 500,000 trucking companies in the U.S. to haul the 2017 tree to Washington.
"On Nov. 13, I departed Montana for a two-week adventure to make the 3,460-mile journey from the Kootenai National Forest to our nation's capital. Day after day, I've been rolling across the country, with stops in Missouri, Kentucky, West Virginia and Virginia, where thousands of people have gathered to take part in this annual and festive journey. …
"For me, the best part about trucking is being able to see America. Most jobs don't offer that opportunity. Luckily, on this journey, I've had the privilege to provide thousands of people across several states the opportunity to view the beautiful spruce tree before it makes its arrival in Washington. As I travel from one corner of our country to another, I have been inspired at how the nation's Christmas tree is truly "the people's tree."
The fifth-generation Montana sawyer who felled the tree (and reluctantly stepped into the limelight in doing so) also put his experience into words.
Pete Tallmadge originally delivered these remarks in Troy, when the big tree rolled through town early on its eastern journey.
"When Kirsten Kaiser, the Three Rivers district ranger, called and asked if I would consider being the sawyer for the 2017 U.S. Capitol Christmas Tree, I just about said no. To tell you the truth, I immediately thought of three or four other sawyers that she should call instead.
"As loggers, the majority of us love our work because of the solitude it affords. Limelight is uncomfortable.
Personally, I prefer the predictability of the average, mundane day. I love my job and I love its routine. All of this is slightly out of routine, wouldn't you say?
"Fortunately though, Kirsten's call came as a voicemail and I had the chance to discuss this unexpected opportunity with my family before giving her an answer. The consensus was a resounding "yes, you have to do it," so I called her and accepted the invitation.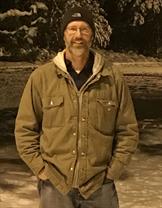 "To tell you the truth, I really didn't anticipate the level of hoopla surrounding the cutting. I mean it's just one tree, right? But as I've walked out of the events of the last week it's become very clear that it's about more than just a tree.
"It's about opportunity … it's about pride … it's about our timber heritage … and our community.
"I have been given the opportunity to not only represent myself and my family, I've been given the chance to represent the timber industry, this community, and the great state of Montana.
"We have been given the privilege of providing the "People's Tree" to the rest of the country.
"This tree is a gift from you … this tree is a gift from us … this tree is a gift to everyone who calls the United States of America home.
"Now I realize it's not even Thanksgiving yet, but let me be the first to say… Merry Christmas."