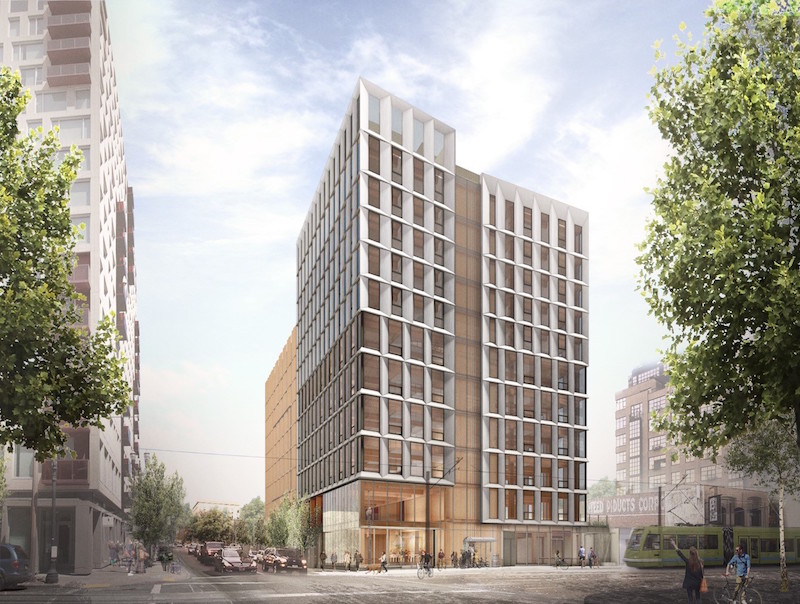 Oregon is bullish on the future of high-rises built from locally sourced wood, and Portland is the proof.
At last month's Mass Timber Conference, an all-day tour took visitors to a few of the city's timber buildings – from a fire station made from wood, including fire-charred siding on the entranceway, to Carbon 12, a classy condominium development in North Portland that, at eight stories, is the nation's tallest wood building.
At Albina Yards, Lever Architecture founder Thomas Robinson not only touted that four-story masterpiece – the nation's first to use domestically produced cross-laminated timber (known as CLT) for its structural system – but also his next project: Framework, a skyscraper built of wood.
At 11 stories, Framework will easily hold title to "tallest" of Portland's wooden high-rises. It will house a combination of commercial offices and apartments; construction will begin as soon as the architects and engineers provide reassurances of the building's fire and earthquake safety.
And so it was not entirely unexpected recently when the governor of Oregon visited the Carbon 12 construction site on the day the building reached its full eight stories and set the American record for timber high-rises.
But if Gov. Kate Brown plans to visit the construction site each time CLT sets a record, she's going to have a packed schedule, as this story from The Oregonian and OregonLive.com testifies. It's an interesting insight into the popularity of mass timber in a state where the timber industry was long the mainstay, but has suffered mightily in recent decades.
Will CLT high-rises rejuvenate the wood products business in Oregon? Take a listen to what The Oregonian's crew learned.
By Elliot Njus and Molly Harbarger/The Oregonian
It's rare that a governor shows up to celebrate a new condo tower.
But this one's made of wood, and that's a bigger deal than it seems.
Gov. Kate Brown was on hand the day Carbon12 in North Portland reached its full eight stories and became the nation's tallest wood building. The feat was made possible by cross-laminated timber, wood engineered to have the strength of steel.