Into most every conversation, Jonathan Kusel works in a pitch for his three-legged stool of forest restoration – the "triple bottom line."
"The longstanding conversation has centered around environment and jobs – and whether you could have both," said Kusel, executive director of the Sierra Institute for Community and Environment. "But that's an incredibly narrow framing of the conversation."
First, he said, society needs to accept that "we can have a healthy environment and jobs. There is restoration work that needs to be done and it can be done."
The alternative, of course, is to restore healthy forests, and with them, critical watersheds.
And so comes Kusel's third leg, the local communities that are part of (and dependent upon) these forested landscapes.
"Yes, we can have the environment and jobs," he said, "but let's also create opportunities for local businesses to thrive."
Attention to the triple bottom line means supporting policies "where we just don't pay the lowest, the cheapest contractor who may take advantage of his or her labor force. It's hiring contractors for forest restoration who pay a decent wage, who buy locally and employ locally. It's a focus on improving economic, ecological and community health."
A few years back, Kusel took his pitch to the U.S. House Subcommittee on National Parks, Forests and Public Lands.
In telling the story of the Burney-Hat Creek Community Forest and Watershed Group, Kusel explained that in addition to improving landscape health, group members are "committed to creating local jobs and improving well-being in local communities."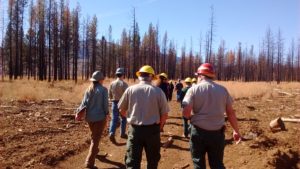 Communities in these Western forests have struggled to redefine themselves for decades, he said. Many have yet to find their new, socially and economically healthy future.
A Sierra Institute assessment in the town of Burney found that student participation in the federal Free and Reduced Lunch Program was above 60 percent.
"Alarmingly," Kusel said, "high school students were enrolling at rates that approached elementary student participation, as hunger trumped the social stigma of participation in the program.
"In my 20-plus years of studying rural communities, I had never seen this."
"Generally speaking, in the American West, if you are poor the climate-change or wildfire-drought impacts on water are going to hit you first and hardest," she said. "So how do we incorporate water justice and equity into Western water management and water policies?"
Like Kusel, she works to ensure that rural communities and their oftentimes poorer populations are not forgotten as metropolitan areas work to safeguard their sources of clean drinking water.