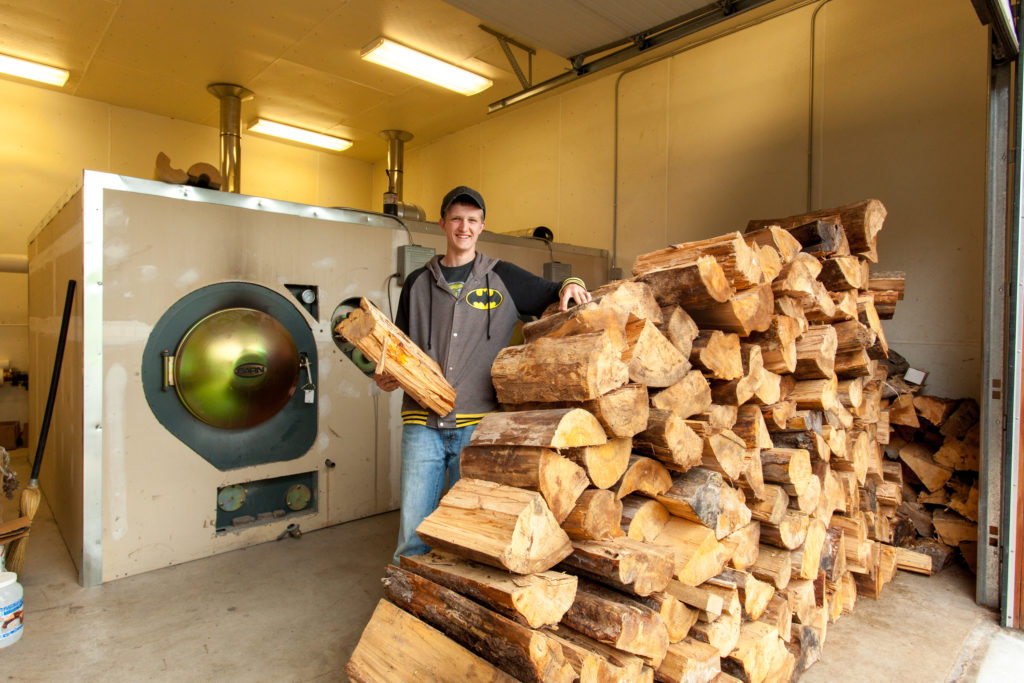 Prince of Wales Island sits at the southern tip of Alaska's Alexander Archipelago, its dense forests and tiny communities accessible only by boat or an hour's float plane flight from Ketchikan.
In this sylvan isle, 10 is a magic number. If 10 students enroll in October, you have a school. If the community musters just nine students, there is no school.
As with many remote rural places, a public school is the difference between a community and a ghost town.
"At one time, we had 21 schools and now we're down to 8," said Lauren Burch, superintendent of the Southeast Island School District. "And once the schools shutter, they don't come back. Now those places fade into summer homes and ghost towns.
"In our world, the school's the community hub and often the only employer in the winter time. It's the glue that holds the town together. We have an obligation to these communities to help them stay viable. I have to know those 10 kids are sticking through the year. The best way to do that is if papa's got a job."
At six public schools across the island, the installation of modern wood heating systems has fueled a surge of energy savings, student entrepreneurship and, surprisingly, improved nutrition.

By switching from expensive heating oil to wood heat, schools save money and students and residents earn pocket money by cutting firewood and stoking the boilers.
The 14-student school in tiny Coffman Cove saved $11,000 a year on energy costs. The largest school on the island, Thorne Bay, saved an estimated $36,000 last year on energy.
The four schools that have a full year's data on their boilers paid $41,200 for wood-based fuel in 2017, including $34,900 for cordwood and $6,300 for locally produced bio-bricks.
Across the district, the switch to wood-fired boilers has created six part-time jobs.
Four schools have installed greenhouses that provide students, staff and the community with fresh vegetables, mushrooms, rabbits and chickens raised in spaces warmed by the boiler's waste heat. A fifth, Whale Pass, plans to build a greenhouse in the near future.
Alaska's appropriate technology
Across Alaska, 13 schools heat with wood and two more under construction. Statewide, 39 modern wood heat systems are operating, most with strong performance records.
These systems range from the simple cordwood boilers popular on Prince of Wales Island to automated wood pellet boilers to even micro-scale combined heat and power at the Tok School southeast of Fairbanks.
Alaska has more than 200 communities that are not on road systems; the isolation can be expensive.
Communities that are accessible only by air (bush plane or float plane) or by boat in the summertime when the waters are free of ice face dramatically higher energy costs. Many of these small communities practice a subsistence lifestyle (hunting, fishing and gathering) as traditional employment can be scarce.
In the Lower 48, modern wood heat has struggled to gain widespread acceptance, with the notable exception of New England, because most communities enjoy access to inexpensive natural gas.
While energy costs in rural Alaska can be extraordinary, elevated construction costs can shrink the potential savings of switching to wood heat. If your heating oil was barged up the Yukon River, then your boiler will be barged up the Yukon as well. And that means the energy savings from converting to wood heat may not materialize.
But the local employment benefits of using wood heat are reliable and significant. The twin desires to provide local jobs and bolster local self-reliance motivate community wood heat champions. Making sound use of what's around you aligns with rural values. The technology fits the culture – not the other way around.
Like all industries, technology reduces the need for labor. Wood energy is no different. But on Prince of Wales Island, the remote nature and desire to bolster local jobs turn the technology choice on its head.
Rather than an automated system that would reduce labor but increase capital costs, the school district chose a manually fed cord word system precisely because it would create more local employment.
And simpler systems have fewer ways to fail – a critical consideration when you are isolated and getting new parts is not fast, easy or cheap.
"I got pushed pretty hard to go with wood chips, but that doesn't do anything for my local economy," said Burch. "Cord wood is very simple. You open the door. You put it in. You close the door. I mean, that's relatively idiot proof, and it creates another job because now somebody's got to put the wood in there."
In these small rural communities, the ability to earn a little extra cash allows students to engage in activities that other wealthier communities might take for granted.
"The families are poor and a lot of kids don't play sports because they can't afford it. But now they can make money cutting firewood, loading the boilers, or moving that firewood. It generates money for student fundraisers. I've never liked giving kids money for nothing. They value it a lot more if they earned it," said Burch.
For local residents, selling firewood can help pay for out-of-pocket expenses, like medical visits.
"In the community of Elim, they'll get on the radio and announce, 'We need wood at the water treatment plant and we will pay $250 for a cord of wood.' Locals deliver and get paid in cash. So that works very well in a subsistence lifestyle, because say for instance you need to come to Anchorage for some medical treatment, you can deliver a couple of cords of wood and pay for your flight to Anchorage," said Devany Plentovich, biomass program manager for Alaska Energy Authority (AEA).
The Alaska Energy Authority and the U.S. Forest Service have provided most of the funding for the state's wood heating systems. AEA also makes sure each community develops a sound operation and maintenance plan prior to installation of a wood-fired heating system.
"We realize that the technology for the wood heating systems is pretty easy; the hard part is developing the community capability for supplying the wood and operating and maintaining systems," said Plentovich.
Once AEA's engineers have determined that a wood energy system could be viable, it's up to the community to figure out how to provide the wood and maintain the system.
"At this point, we step away and wait for the community to answer the questions: Where's the wood going to come from? How are they going to harvest the wood? Who's going to maintain the system?" said Plentovich.
If the community develops a plan to maintain the system and supply it with wood, then public funds from AEA could cover the heating system's cost. Since 2009, AEA has invested $27 million to construct 39 commercial and institutional wood heating systems.
A man, a plan, a wood-fired boiler
On Prince of Wales Island, Superintendent Burch's vision included far more than heating his schools with wood. While six schools have installed cord wood boilers, that was just the beginning.
"Lauren is very creative and innovative. He has a broad vision of what wood heat could catalyze in his community," remarked Plentovich.
The wood heating systems have ignited a surge of student entrepreneurship. Using waste heat from the boilers several schools have installed greenhouses to grow vegetables and mushrooms. And students are now raising rabbits, goldfish, chickens and geese.
"Obviously, you can do chickens and rabbits without a wood-fired boiler," Burch said. "Rabbits can just about live on their own body heat, but it's a smart spin-off. Because now you've got excess produce scraps. You've got recycled stuff that rabbits and chickens love to chew on."
At another school, students use the boiler's waste heat to dry locally produced lumber and shape molding that fetches a good price on the island. The boiler room also provides a warm dry space for students to build Adirondack furniture that they market off the island.
Most of rural Alaska is a food desert when it comes to fruits and vegetables, but not Prince of Wales Island. At the largest school on the island, the school district started offering a salad bar with its school-grown vegetables – thanks to low-cost heat from the wood-fired boiler.
At first, the kids would not eat the vegetables (big surprise, right?). But once they started working in the greenhouses, they began to eat the vegetables. Turns out, it's easy to get students to eat vegetables they've grown themselves. Forest to farm to table makes it to southeast Alaska.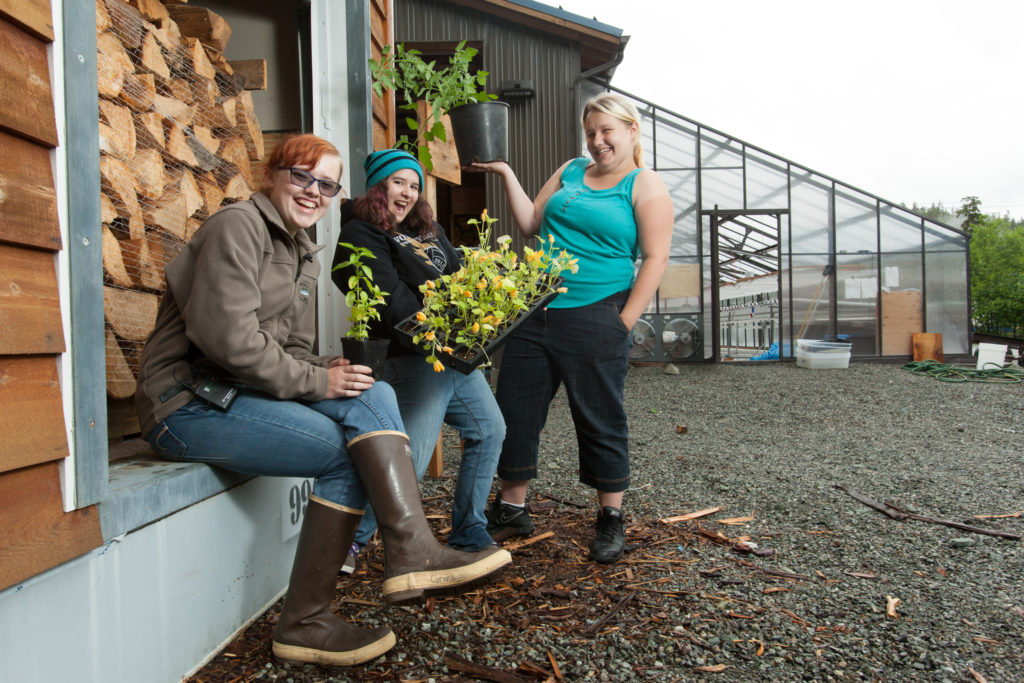 Collectively, Burch and his colleagues have notched an impressive array of outcomes: lower energy costs, local job creation, improved student engagement and better nutrition. It adds up to a stronger more resilient community, one that's better able to cope with inevitable shocks.
"For me, it all comes down to reducing the risk of schools closing during the year," says Burch.
Despite the success of wood heating across rural Alaska, the program faces an uncertain future.
Until now, the state has paid most of the costs of the systems with revenue from oil sales. But a decline in oil receipts has led to a steep drop in funding. Last year, the state reduced the Permanent Fund (a check from the state to every permanent resident) by 50 percent.
"We are hopeful, but Alaska's in the middle of an economic crisis. We're in deficit spending, and the grant funds from the state are few and far between," said Plentovich, at the AEA. "We are looking for creative solutions, including other funding sources as well as loans."
Up until now, public funds were available to cover the costs of construction. With the funding picture changing, those interested in modern wood heating will need to secure other sources. Plentovich points to a project loan account with which the Alaska Energy Authority hopes to fund its first wood heat project. Complicated funding packages are not new to modern wood heat developers and advocates in other states.
"Wood heat is going to need flexible and creative financing solutions, but I am hopeful that more conventional lending options can be found," said Meagan Nuss of Wisewood Energy, a wood energy development firm with multiple projects in Alaska.
Future funding may be uncertain, but wood energy advocates remain optimistic.
"There's a strong spirit of rugged individualism in Alaska. People are inherently drawn to systems that support the local economy and community," Nuss said. "They would like to use what's around them instead of importing resources from the outside. That is, and will always be, a strong motivator."
Marcus Kauffman writes about wood utilization and forestry for the Oregon Department of Forestry. He can be reached at [email protected].