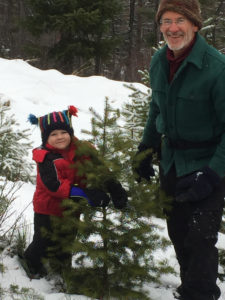 The smell of a fresh-cut tree is a wonderful thing. A couple of weeks ago, my wife and I took our 3½-year-old and 10-month-old grandsons, Emerson and Rowan, out to our forest land to collect a couple of Christmas trees. Emerson cut down his own 3-footer to take home and decorate.
A homegrown tree is a great thing to enjoy for the holidays. And, of course, by removing excess trees from our land, we create more space for those remaining and make them healthier. After the holidays, the trees can be composted for further benefits to the environment, the essence of renewability and sustainability.
The end of the year, shortening days and gatherings with family are cause for reflection on the past year and looking forward to the year to come. We hope you have appreciated and enjoyed the stories Treesource has gathered and produced for you this past year, showing the wide array of wonderful things trees and forests do for us. We've also tried to shed light on the choices society faces in the wake of ever-larger wildfires and the mounting consequences of climate change. There are also many positive things we have learned and shared in 2018, and next year is full of possibilities.
If you feel Treesource has been of value, we encourage you to make a tax-deductible donation so that we can stay in operation. It takes time and effort to produce stories and to curate the best of what other writers and researchers produce. If you believe, as we do, that forests are an anchor to a sustainable future, help us get the word out and expand our reach. For those who already have made contributions, many thanks!
Happy holidays to you all!
Dave