A witness tree begins its life like any other tree. It sprouts. It grows. And then it's thrust into the spotlight, playing an involuntary part in a significant historic event. Often, that event is a devastating, landscape-scarring battle or other tragic moment. Once Civil War soldiers march on to their next battle, say, or a country turns its attention to healing after a terrorist attack, a witness tree remains as a biologically tenacious symbol of the past.
Witness trees have been known to hide bullets they've absorbed beneath new layers of wood and bark, and they heal other visible scars over time. While they may look like ordinary trees, they have incredible stories to tell.
Travelers, history lovers, some park rangers and others have embraced these exceptional trees as important, living connections to our past. In 2006, Paul Dolinsky, chief of the National Park Service's Historic American Landscapes Survey, led the development of the Witness Tree Protection Program, a pilot project that identified an initial 24 historically and biologically significant trees in the Washington, D.C. area. Written histories and photographs of the trees are archived at the Library of Congress. "Although trees have longevity, they're ephemeral," says Dolinsky. "This will be a lasting record of the story a tree has to tell."
While the pilot program has gained some traction, the number of witness trees in the U.S. remains unknown. One reason why: Some areas where witness trees may reside, like battlefields, are vast. Another reason: It can be difficult to determine a tree's age to confirm it was alive during a significant historic event. Boring into a tree can answer that question, but it can also damage a tree so it's not often done.
In some cases, witness trees aren't identified until they die of natural causes. In 2011, for instance, a felled oak tree with two bullets embedded in the trunk was found on Culp's Hill in Gettysburg National Military Park in Pennsylvania. Photographs or other historic records, however, can confirm some witness trees—and rule out others—with relative ease.
Confirmed witness trees are precious. They survived trauma, and then dodged disease and storms and whatever else humans and nature have hurled at them for dozens or even hundreds of years. Though some trees can live for 500 years, it's unknown how much longer some of these may survive.
Communing with a witness tree offers a true, one-of-a-kind thrill. "It's a live thing," says Joe Calzarette, Natural Resources Program Manager at Antietam National Battlefield in Maryland. "There's something about a live thing that you can connect with in a way you can't with an inanimate object."
To experience it yourself, visit these five trees that have witnessed some of the most traumatic and tragic events that have shaped U.S. history. When you go, respect any barriers—natural or manmade—between you and the witness tree, and take care never to get too close to trees that seem approachable. Even walking on nearby soil can have an impact on a tree's root system and overall health.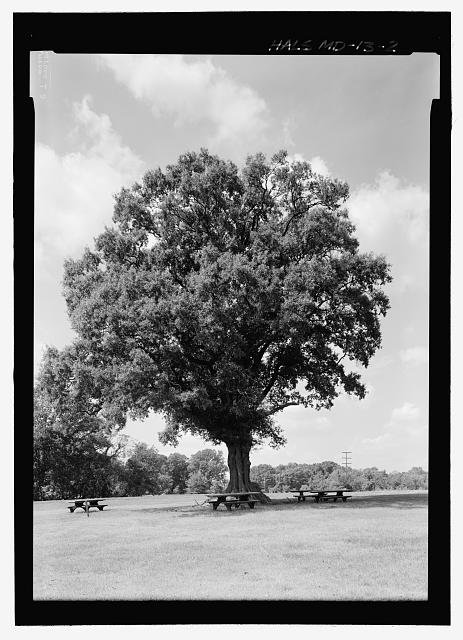 The blood and fire of the War of 1812 Willow Oak's namesake hostilities reached the tree during the Battle of Bladensburg on August 24, 1814. The lonely oak with its thick, gnarled trunk now stands in a grassy field in Maryland, near the parking lot of the Oxon Cove Park & Oxon Hill Farm in Oxon Hill, known two centuries ago as Mount Welby, home of British sympathizers Dr. Samuel DeButts and his family. The tree and estate overlooked Washington, D.C.
On that August night, British troops defeated American troops about six miles away from Mount Welby, then attacked the capital, setting the White House and other parts of the city on fire. DeButts' wife, Mary Welby, wrote of that evening: "Our house shook repeatedly by the firing upon forts [and] Bridges, [and was] illuminated by the fires in our Capital." The DeButts family later found three rockets from the fighting on their property.
Read the rest of this story online at Smithsonian magazine, here.