COLUMBIA FALLS, Montana – SmartLam, the nation's first commercial production facility for cross-laminated timber, is locked in a dead heat with DR Johnson for pole position in the rapidly expanding pack of CLT manufacturers.
A major expansion is on the horizon, quadrupling production capacity at SmartLam's Montana plant. And new plants in the U.S. Southeast and Northeast are next.
"Interest in CLT has just grown exponentially, not only in the quantity of projects but also the quality," said Casey Malmquist, SmartLam president and co-owner. "We're seeing high numbers of larger projects utilizing CLT. This new plant will allow us to better serve this fast-growing market."
While the company has not settled on a final site, the new facility will be located in western Montana's Flathead Valley. With 160,000 square feet of manufacturing space and new fully automated presses, SmartLam's production capacity would grow from 12 million to 40 million board feet and require 35 new employees.
Despite the cramped conditions at its existing site, SmartLam has added a handful of new employees in recent months.
Malmquist is not stopping there, either. He wants to take SmartLam national.
"Our plan is to establish this new plant, get it up and running very efficiently," he said. "We are scoping sites in the Southeast and Northeast – the other two major wood baskets in the U.S. Within the next 18 to 24 months, we aim to build plants in both regions."
American CLT manufacturing has entered a new phase of growth in recent months, with major announcements from Vaagen Brothers Lumber (Colville, Wash.), Freres Lumber Co. (Lyons, Ore.), SmartLam (Columbia Falls, Mont.) and International Beams (Dothan, Ala.).
Time will tell which manufacturer will emerge as the industry leader. But these developments raise a deeper question: Can the industry leverage this excitement to address more complex challenges, such as climate change, rural employment and forest health?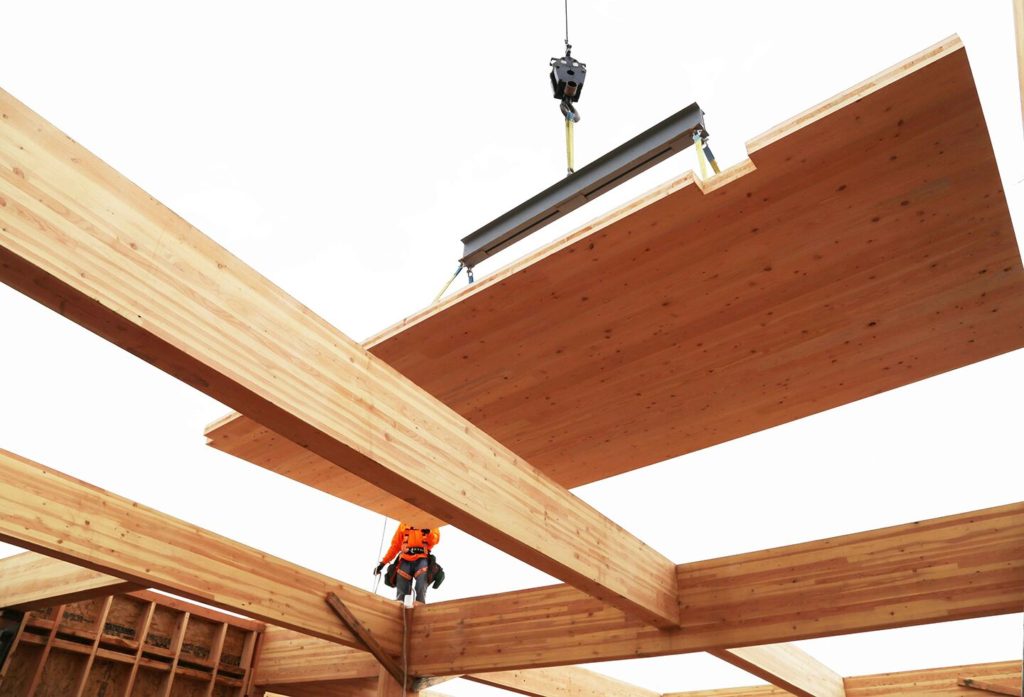 A means to an end
For Casey Malmquist, the answer is a resounding yes. Malmquist takes a holistic approach, making the connections between disparate ideas. Add a healthy dose of business acumen and a whole lot of energy, and you have an entrepreneur with a social conscience, an archetypal Elon Musk. To Malmquist, the innovation and inherent advantages of CLT present an opportunity to tackle some of society's most significant challenges.
Malmquist is unabashed in his desire to "make a difference." To him, CLT is nothing less than a means to address climate change, rural employment and declining forest health.
"I've had the blessings of having a successful business for many years," he said. "Making money is one thing, but making a difference is far more fulfilling. If SmartLam can positively impact climate change and leave a healthier environment, that's something I'd be very proud of."
The urgency of climate change
Originally from northern Minnesota, Malmquist earned a degree in environmental studies from Gustavus Adolphus College. His environmental background and 30 years' experience in construction inform his thinking and sense of urgency on climate change.
"I am an ardent believer in the existence of global climate change," he said. "The debate about whether climate change is human caused is like firemen driving up to a burning building and arguing about what caused it. We need to focus on mitigation, because the effects are going to be very serious.
"Behind all this is a deep desire to positively influence global climate change through sustainable and renewable building products. That's what gets me up in the morning."
Malmquist offers the shift toward locally sourced food as a metaphor for CLT. Local food emphasizes the origins of our food. "Locavores" are all about location. In that same vein, a low-carbon world could herald a similar scrutiny of building materials.
"The food supply really got out of the control of the consumer, with very little focus on the health and well-being of the end user," he said. "I think CLT has a similar opportunity – the farmers market approach and smaller, more well-intentioned and well-focused agricultural efforts for healthy food."
Forests and a low-carbon future
Malmquist laments what he sees as a "gross misunderstanding of forest management" and worries about reactionary responses to the harvest and utilization of wood.
"Sadly, even here in Columbia Falls – a community founded on wood products – if you ask a fifth-grader, "Is cutting a tree down a good thing or a bad thing?" Even here, probably 80 percent are going to say it's a bad thing."
A systems thinker, Malmquist views CLT as the connective tissue between the need to reduce the carbon footprint of the built environment and the need to improve our forests' health.
"I think now we have a really compelling argument within the environmental group to have this discussion," he said. "Let's build an understanding of sustainable forestry and couple that with the choice of using wood to offset the carbon impacts of concrete and steel. To me, that's a no-brainer choice. We can manage our forests, but we're going to have a much more difficult time managing the effects of climate change."
An engine for rural job creation
Climate change, forests and rural jobs are the triad of interconnected challenges that motivate Malmquist.
He has experienced the pain of job losses personally and watched the impact on his community. In 2015, SmartLam was forced to lay off nine employees because of the downturn in oil production at the Bakken oilfields. And in 2016, he witnessed the closure of the Weyerhaeuser mill in Columbia Falls, which cost another 100 jobs.
To Malmquist, job creation is both personal and professional.
"Job creation and supporting rural economies are important personal goals," he said. "I have two children; the opportunities for young people here are really limited. It's slinging cappuccinos or changing bed sheets. I want to create opportunities for the next generation to work in an innovative industry that puts our forests back to work. That's a very personal goal of mine."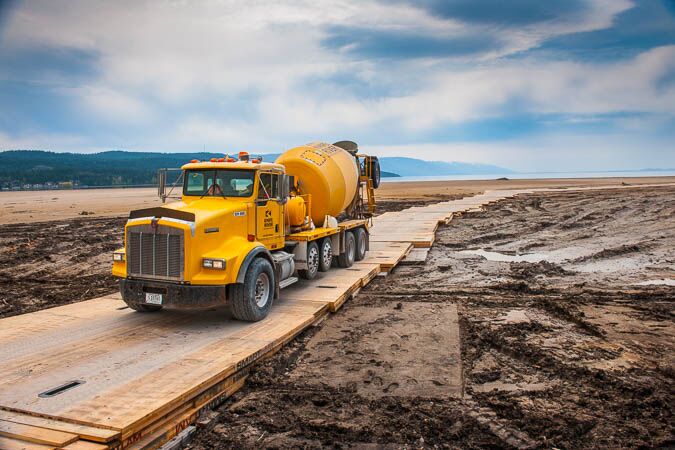 Crane mat commercialization
Malmquist started SmartLam to make CLT crane mats and rig decks to serve the oil industry. In areas without roads, access mats and crane mats create a safe and low-impact temporary conduit. Similarly, a rig mat creates a level platform from which heavy equipment can operate safely.
The experience of commercializing CLT crane mats and rig mats illustrates Malmquist's approach to business. The product should be less expensive, work better and be better for the environment, he said. And CLT crane mats are less expensive, lighter and stronger – and are made from a renewable, responsible resource.
"Conventional timber mats were made from large-diameter trees, which are obviously a limited resource," said Malmquist.
Manufacturing crane mats allowed SmartLam to fine-tune its production techniques while the architectural market matured. It was a commodity product that helped introduce CLT to the U.S. market. But it didn't carry the same level of testing and consequence as building a 12-story office or apartment building.
A blessing in disguise
The plan was to slowly pivot from crane mats to architectural CLT. But the oil and gas market had other plans.
"We were enjoying a very robust market in the matting with oil and gas, and it literally shut off like a faucet," Malmquist said. "We were at full pressure one day and at zero the next. We were forced to make that pivot earlier than we intended. But on the other hand, it turned out to be a blessing in disguise. If we were still running full production, it would have been difficult to commit the time and resources needed for testing, certification and the development of a team behind selling a piece of CLT."
Malmquist said a "constellation of benefits," including his interest in sustainability, a shrinking workforce of qualified workers, higher efficiencies of modular construction and a desire to put forests back to work, drew him to the architectural CLT market.
"My interest came from recognizing the convergence of several market factors," he said. "If you combine the environmental benefits and a real need to get our forests working again, it just seemed like a perfect formula and a perfect opportunity. It was one of those aha moments. I didn't take much convincing."
A little help from your friends
Now SmartLam is on the brink of a major expansion and plans to go national. But the company didn't reach this point by relying solely on the charm and vision of its founder. It had a little help from some friends.
A loose affiliation of local, regional, state and federal entities have all pitched in to give SmartLam the support it needs to grow. This spring, Montana West Economic Development awarded the company $227,000 based on the commitment to add new jobs. In 2015, the U.S. Forest Service Wood Innovations Fund provided $250,000 to offset the costs of design and engineering for the new facility.
"We see great potential for new uses of wood in the Flathead Valley," said Kimberly Morisaki, director of economic development and marketing for Montana West Economic development. "Wood products have been and remain an important part of our economy. It's exciting to see our valley launch new cutting-edge wood technology."
Federal land supply challenges
SmartLam's plans for increased production capacity will require about 40 million board feet of timber per year, up from its current volume of 10 million to 12 million.
Right now, Stoltze Land and Lumber in Columbia Falls supplies 25 to 40 percent of the 2-by-6 and 2-by-8 lumber the company needs. Regional mills from Montana, Idaho and Washington state supply the rest.
Chuck Roady, Stoltze vice president and general manager, has worked with SmartLam since its founding. In December 2016, the Stoltze mill added a second shift and another stacking system and made improvements to its conveyance systems. It would be eager to supply SmartLam with more lumber, but Roady needs more logs.
"We've been able to work two full shifts since December," he said, "which is a plus, but there again, it doesn't come from just a desire to have more production. You gotta have wood, you gotta have the raw resource and I'm surrounded by green (federal lands) on a map. Our constraint is a steady, consistent, predictable supply of timber. I can't afford to go buy logs from 500 miles away. The only way it's going to work is if the federal government manages the land."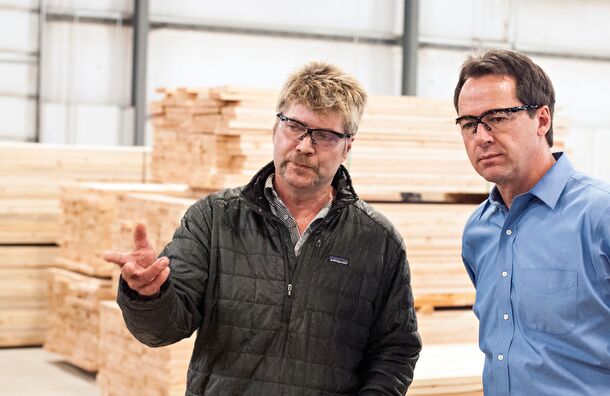 Raising the profile of mass timber
Addressing timber supply uncertainties will undoubtedly be on the minds of Malmquist and other mass timber advocates at this week's Montana Mass Timber Rising event in Columbia Falls on Wednesday June 28.
Over 90 participants across a wide variety of fields have registered for the event, which includes a tour of SmartLam's facility, panel presentations and a discussion.
Oregon and Montana have emerged as national leaders in CLT and mass timber manufacturing and utilization. The event will feature expert panels from both states to address common challenges and shared opportunities.
The week also will see the Western Governors Association meeting nearby in Whitefish, where national forest issues also are on the agenda.
For more information on Montana Mass Timber Rising, visit www.eventbrite.com and search for Montana Mass Timber Rising.
Marcus Kauffman works for the Oregon Department of Forestry. A longtime Oregonian, he specializes in biomass and other market-based solutions to natural resource challenges.